This tool allows you to chart any ratio, spread or correlation between 2 securities.
To find the ratios, spreads and correlations, locate the "Create New" button towards the right side of the Fundamental Charts:
Ratios
To use the ratios, enter the two securities you would like to compare under Security A and B. You can use any stock, fund, index or economic data found on YCharts.
Under metric, specify the financial metric that you would like to chart. You can measure the ratio between prices, revenue, annual returns, etc.
Examples of ratios
Spreads
The spread option takes the metric from security A and subtracts the metric from Security B.
Spreads will also include an option for "weight." The weight box allows you to multiply one of the metrics by a factor you enter. In the example below, if we put a 2 in the weight box it would double the dividend yield (TTM) of HYG.
Examples of spreads
Correlations
The correlations section measures the rolling correlation between the metrics you enter. A correlation of 1 means that the two metrics are in perfect correlation with each other; when one increases or decreases, the other follows in exactly the same way.
The lookback period of the correlation is determined by the frequency of the metrics you chose. If you're correlating metrics with different frequencies, the lookback period is found using the metric with the shorter frequency. For example, if you're correlating a company's revenue (quarterly) to their stock price (daily), the lookback period will be 11 quarters.
Daily/weekly: 120 periods.
monthly: 31 periods.
Quarterly: 11 periods.
Yearly: 3 periods.
The "lag" input will push the metric back by the number of periods you enter. For example, if you type a lag of 2 for a monthly indicator, the correlation calculation will look at that indicator 2 months prior to the other metric. This is helpful to see if an indicator "leads" another indicator.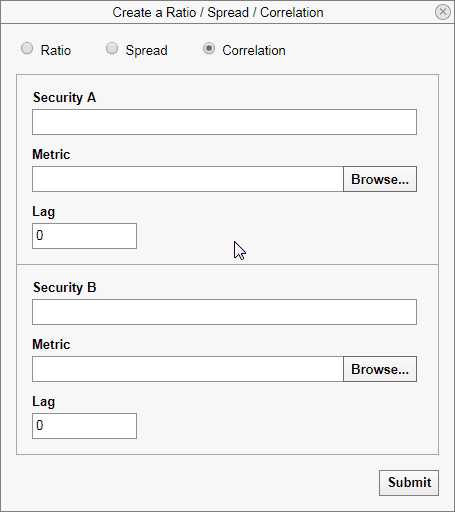 Examples of correlations
If you have any other examples of ratios, spreads and correlations share in the comments below!