Congratulations! You have access to one of the most powerful financial tools available in the world.
Below is a video and a step-by-step guide to show you how to install the add-in.
Installing the add-in Video (2:43)
Step-by-Step Guide (6 steps)
Note: Ensure you are using a Windows Excel version 2010 or above. The YCharts add-in does not work on a Mac unless you have a program like Parallels or Boot Camp to run Windows.
1. Check your version of Excel
Open a blank workbook in Excel, then click "File."
Click "Account."
Click the "About Excel" box towards the right.
Note if you are running Office 2010 or above and 32 or 64-bit Excel.
2. Download the Excel Add-in
Start on the Excel page on YCharts. You can find this page by clicking "Excel" in the "Tools" menu at the very top of any page on YCharts.
Click the big blue button after choosing either the 32 or 64-bit version. You should see the add-in download at the bottom right.
If you get a message asking to open or save, choose open.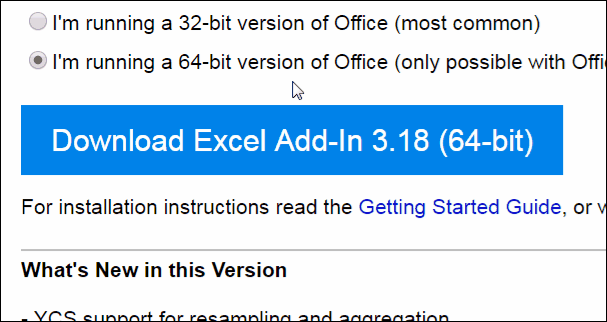 3. Click on Run
4. Complete the installation
Click Next, then allow the program to make changes to your computer. After the installation has completed, you should see the below message.
If you have any problems installing Contact us.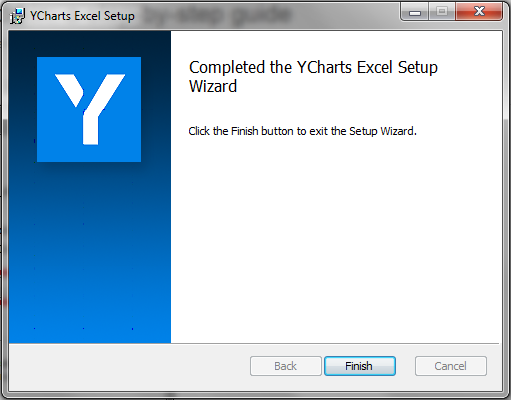 5. Locate your access key
6. Copy and paste the access key into the "Access Key" area in the YCharts add-in. Then, click Login.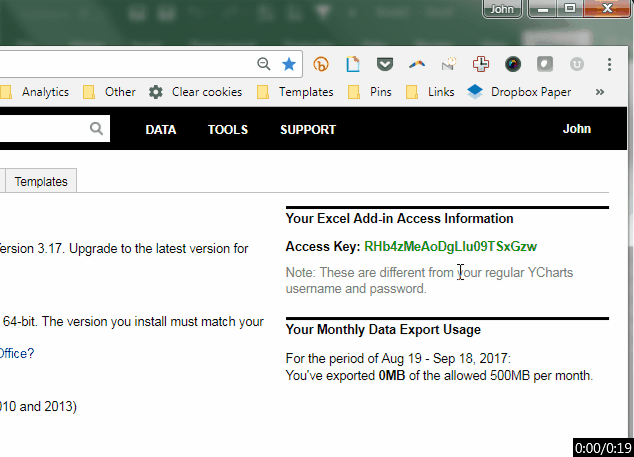 You did it! You're ready to start using the YCharts add-in.
Click here to view our templates and to learn more.
To install the debugger for the add-in you can download the attachment.