Overview
The Income Statement Model has the following capabilities:
Creating comprehensive quarterly and annual income statement for any publicly traded company
Easy visibility and comparison of income statement metrics for current and past quarters/years
How It Works
1. Enter A Security
Under the "Annual" tab, enter the ticker name of the company you would like to view the balance sheet for in the blue box next to "Ticker" in cell C5.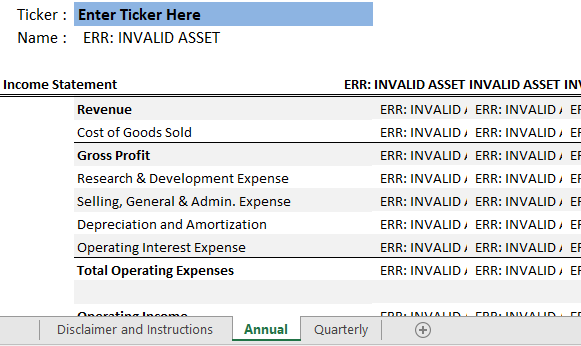 2. Print or Save the report as a PDF
To print or save the report as a PDF, click the File button. Select Print or Export to save as a PDF.
*PLEASE NOTE: Do not delete, add, or change anything in the spreadsheet except for the ticker box in cell C5 on the "Annual" page. This will ensure the spreadsheet will calculate all the data properly. 
Details and Features
Below is a sample breakdown of the annual income statement. Specifications and metrics available are identical for quarterly income statement