Overview
The Weighted Returns template can be used for the following purposes:
View the trailing returns of individual securities in a portfolio
Analyze the weighted returns of a portfolio vs a custom benchmark 
Below is an example of the Weighted Returns template:
How it works
1. Enter the Portfolio Holdings
On the "Daily Returns" tab, type the securities in the blue highlighted areas and edit their weights, shares or dollar amounts on the right side. You can switch between these options by clicking the "Shares" heading at the top.
2. Enter the Benchmark
Beneath the portfolio entry you will find a space to enter benchmarks. This works the same as the portfolio entry section: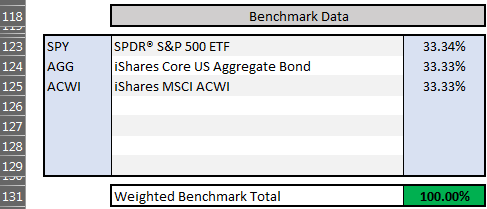 3. Print or Save the report as a PDF
First, click on the tab you'd like to print or create a PDF for. Then, click the File button and select Print or Export to save as a PDF.
 *PLEASE NOTE: Do not delete or add any rows in the spreadsheet. Only delete the contents within a cell. This will ensure the spreadsheet will calculate all the data properly.  
Specifications and Details
Returns
If a security within the portfolio has not been trading for the entire return period specified, that position will assume a cash position