Overview
This template can be used for the following purposes:
Analyzing the trailing returns and change in value of a portfolio over different time periods
Viewing performance of securities over custom time periods
Here is what the template looks like: 
How it works
1. Enter the Portfolio Holdings
To use the Portfolio Changes in Value template, first click on the "Portfolio Value Changes" tab. Enter the portfolio's tickers in the cells shaded blue in column B.
3. Select the Input Method for Holding Weights 
In cell E7 a user can change the input method of column E between Weightings or Dollar Values. Once a method is selected, insert the appropriate values in column E.
* If using Weightings, enter the Portfolio Value in cell G6.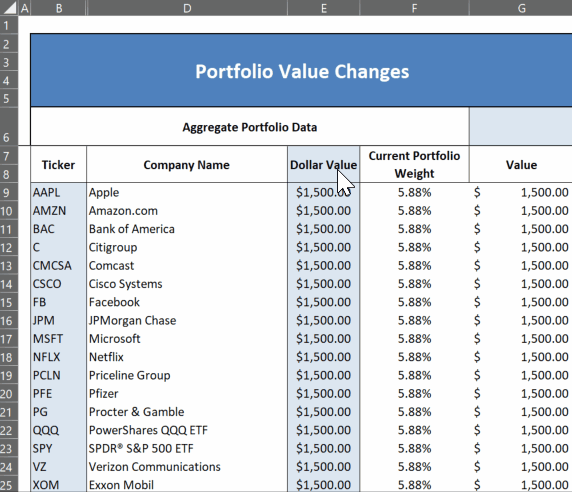 4. Print or Save the report as a PDF
First, click on the tab you'd like to print or create a PDF for. Then, click the File button and select Print or Export to save as a PDF.
*PLEASE NOTE: Do not delete or add any rows in the spreadsheet. Only delete the contents within a cell. This will ensure the spreadsheet will calculate all the data properly.