Overview
The Model Portfolio Comparison (click to download) is a newly released model on YCharts.
The Model Portfolio Comparison can be used for the following purposes:
Visualize your firm's model portfolios in a single report.
Compare each model portfolio's asset allocation, performance, risk, and visualize the risk vs return.
Analyze each model portfolio's monthly, quarterly & annual returns, risk metrics over different look-back periods, and analyze the individual holdings of each model portfolio.
Below is an example section of the Model Portfolio Comparison report:
How it works
1. Enter Your Model Portfolios
On the "Model Portfolio (INPUT)" tab, enter securities in the cells highlighted blue in column C. Re-name each model portfolio in cells H5:O5. Enter the weight of each security in each appropriate model portfolio in the cells shaded blue in columns H:O. Note, do not assign a weight of 0.00% to a security not included in a given model, simply leave the cell blank.
Input an "As of" date in cell C2. Note this defaults to Today's date automatically.
2. Edit the Benchmarks
On the "Model Portfolio Summary" tab, and each "Model" tab, you have the ability to edit the benchmark in cell A3.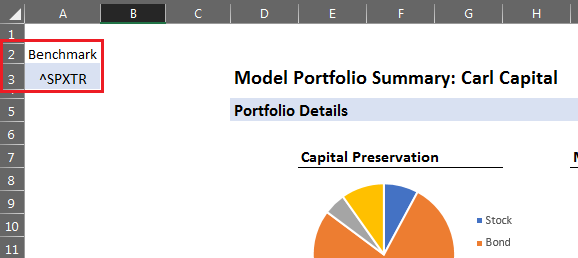 3. Customize the Risk Metrics
On the "Model Portfolio Summary" tab, you have the ability to change the lookback period of the "Risk vs Return" scatterplot and the "Risk Summary" section. To do so, click the drop-down in the cell next to the cell containing the text "Lookback". You'll be able to change between 1Y, 3Y, 5Y, and 10Y.
Similarly, on the "Model" tabs, you can change the lookback of the "Risk vs Return" scatterplot the same way as described above.
4. Print or Save the report as a PDF
First, click on the tab you'd like to print or create a PDF for. Then, click the File button and select Print or Export to save as a PDF.
*PLEASE NOTE: Do not delete or add any rows in the spreadsheet. Only delete the contents within a cell. This will ensure the spreadsheet will calculate all the data properly. 
Specifications and Details
Portfolio Details
The asset allocation section is comprised of the portfolio's stock, bond, cash balance, and other exposures. Cash Balance is the cash available in the model - this does not include cash allocation of a held fund. "Other" allocation includes any fund allocation to cash, convertibles, and preferreds. 
Asset allocation will NOT update with the "As of" date, nor will expense ratio. However, all other data will update to the previous month-end based on the "As of" date.
Best & Worst Periods
The 1 month, 3 month, and 1 year 'Best & Worst Returns' use a 10 year look-back period.
Performance
All returns within the workbook assume monthly rebalancing of the portfolios.