Overview
The 2 Page Portfolio Overview (click to download) is one of our most popular templates on YCharts.
The portfolio overview can be used for the following purposes:
Charting historical returns of a model portfolio.
View the portfolio's sector breakdown, regional exposure, fixed income allocation, among others.
Calculate risk metrics like beta, alpha and upside/downside.
Compare all these metrics to a custom benchmark.
Below is an example of the 2 Page Portfolio Overview:
How it works
1. Enter the Portfolio Holdings
To use the Portfolio Overview, first click the "Trailing returns (INPUT)" tab at the bottom. This is where you can enter securities and their respective weights.
Type the securities in the blue highlighted areas and edit their weights, shares or dollar amounts on the right side. You can switch between these options by clicking the "Shares" heading at the top.
2. Enter the Benchmark
Beneath the portfolio entry you will find a space to enter benchmarks. This works the same as the portfolio entry section: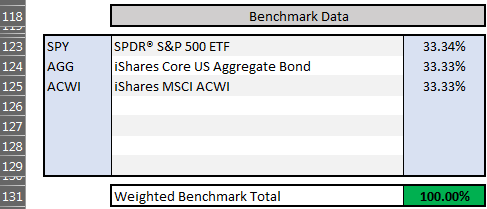 *To show sector, regional, market cap allocation, etc. enter an ETF that tracks the benchmark you wish to use.
Not sure which benchmarks to use? Take a look at our Benchmark Q&A.
3. Print or Save the report as a PDF
First, click the "Two Page Report" tab to view the report. To print or save the report as a PDF, click the File button. Select Print or Export to save as a PDF.
 *PLEASE NOTE: Do not delete or add any rows in the spreadsheet. Only delete the contents within a cell. This will ensure the spreadsheet will calculate all the data properly.  
Specifications and Details
Performance
This section shows the weighted portfolio's performance in each time period indicated. Growth of $10,000 assumes monthly rebalancing. Distributions are assumed to be reinvested in each security. 
Best & Worst Periods
The 1 month, 3 month, and 1 year 'Best & Worst Returns' use a 10 year look-back period.
Fundamentals
All fundamental data at a portfolio level will use only the data that is available. For instance, if a fund does not report a weighted P/E Ratio, it will be excluded from the portfolio P/E Ratio calculation.
Exposures
The sector, market cap and fixed income exposure sections are calculated by weighing the underlying securities' metrics. This is used with the current allocation and financials as of when the report is ran.
Risk Metrics
Metrics such as Alpha, Beta, Standard deviation (all the metrics in the Risk tab) use a 5-year look-back. If a benchmark is needed for the calculation, the manually entered benchmark in the INPUT tab is used.